Report – Phantom Southern Traveller Series Round One at Bowmoor Sailing Club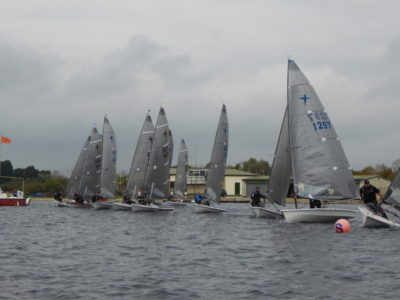 Race one started well with no one catching the OCS bug that turned out to strike most of the front runners throughout the day. Up at the front Mike Tustin (Bowmoor) and Will Gulliver (Northampton) battled for the lead changing places throughout the whole race. With all the battling they seemed to have forgotten about Alister Morley (Salcombe) who managed to sneak through on the last beat to the finish line to take the win with Will in 2nd and Mike 3rd.
Race 2 Saw John Wayling (Northampton) and Will take the top places with Alister taking 3rd. By this time the OCS bug had really hit the chasing pack which meant that it was all to play for after lunch.
Race 3 got under way after the fleet had dined on the staple diet of the phantom fleet, Pie and Chips. A general recall showed just how eager the fleet were to get to the windward mark. John Wayling took the lead closely followed by Olly Hopkins (Bowmoor) who had Mike Webster (Northampton) for company. Sadly, for John ad Mike W they had now been hit by the OCS bug which meant that Olly took the win followed by fellow Bowmoor sailor Dean Griffiths in 2nd and Mike Tustin in 3rd thus completing a Bowmoor 1st 2nd and 3rd.
Race 4 saw John Wayling and Mike Tustin battling for the lead. Unfortunately for John he missed a mark and had to go back which allowed Mike and Alister to come through. At the finish Mike managed to hold off Alister and take the 1st with Alister in 2nd and John in 3rd. This was enough to give Alister the win overall in what was a tricky snakes and ladders style open meeting with each race being won by a different sailor.
The fleet met at the bar for some well-earned beer and cake to wrap up the day.
Overall Results: (top five)
1st 1459, Alister Morley (Salcombe)
2nd 1438, Mike Tustin (Bowmoor)
3rd 1435, Will Gulliver (Northampton)
4th 1346, John Wayling (Northampton)
5th 1343, Olly Hopkins (Bowmoor)