Report – Laser Open at Bowmoor Sailing Club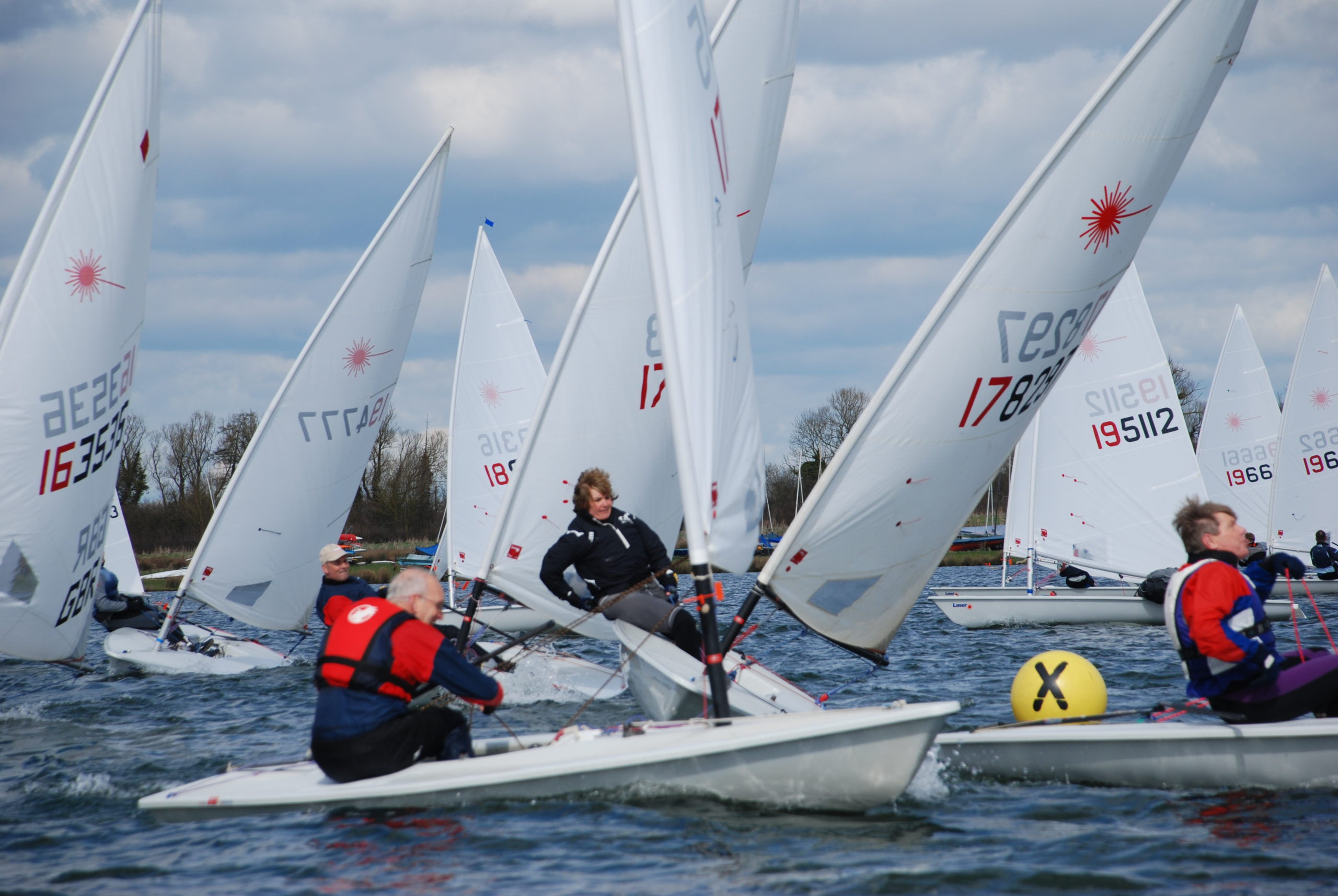 Summer arrived on Sunday, but the weather arrived on Saturday. Gorgeous sunshine and unfortunately, very little wind.
After a short delay and an early lunch the wind finally put in an appearance and gradually filled in over the afternoon. Race Officer, Bowmoor Commodore Tom Whittingham and his team had to work hard on the courses, but managed to give the sailors 3 close races.
From the off, form re-established itself. Many times winner John Ling narrowly beat last years winner Neil Crosby to the finish. In the second race this order was reversed leaving both sailors tied on a 1st and a 2nd, with the final race to decide the outcome. While some were anticipating a tight match race, Ling found the front of the fleet at the start, while uncharacteristically Crosby got caught in the middle of a large group. Extending his lead throughout John finished comfortably in fourth place to win the event. Neil could consider himself unfortunate to come second counting a first and a second.
Overall Results:
1st John Ling (Bartley)
2nd and 1st Great Grand Master Neil Crosby (Bowmoor)
3rd Rick Plummer
1st Youth Matt White (Avon SC)
1st Radial and 1st Lady Sarah Davies (Bowmoor)
1st Grand Master Jeremy Higson (Bartley)
Pos
Helm
Sail No
Club
R1
R2
R3
Pts
Notes
1
John Ling
215260
Bartley SC
1
‑2
1
2
2
Neil Crosby
208674
Bowmoor
2
1
‑8
3
GGM
3
Rick Plummer
204967
Bowmoor
‑10
3
2
5
GGM
4
Nick Holt
202172
Avon SC
‑6
4
4
8
5
Mike Dyer
208129
Bowmoor
‑7
7
3
10
6
Jeremy Higson
210617
Bartley SC
‑12
5
5
10
GM
7
Richard Lymposs
213706
Bowmoor/ Papercourt
4
‑8
7
11
GM
8
Matt White
169994
Avon SC
5
‑6
6
11
Y
9
Doug Roberts
213534
Bowmoor
3
‑10
9
12
GGM
10
Jacob Miller
199440
Avon SC
9
9
‑10
18
Y